About Alda's Art Studio
Alda's Art Studio features the artistic output of Alda Saunders, including both paintings and fine art jewellery.
Alda's painting mediums include watercolors, acrylics, oil pastels, and mixed media and collage, and drawings. Subjects in Alda's Art Studio paintings range from local scenes of the British Columbia coast, as well as places she has traveled such as Arizona, Italy, and the Orient, to flowers, weather, still life, and abstracts.
Alda's fine art jewellery consists of sterling silver and gemstones, as well as lamp work glass beads, which she makes in her studio. The items include necklace or pendant sets with earrings, cuff bracelets, chain bracelets, glass bracelets with sterling silver findings, and rings.
We invite you to enjoy viewing these works of fine art and encourage your comments.  And you may visit Alda's Art Studio at Nanaimo, BC, Canada.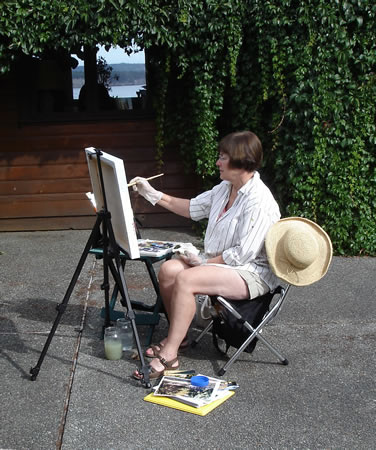 ALDA SAUNDERS received a Bachelor's degree and a Master's degree in Art History from a university in the United States, at which time she pursued her childhood interest in painting and drawing as well. Her other major interest was in weaving, and she was  commissioned to do several wall hangings for public spaces and had numerous exhibitions of her work in the United States.  She also worked as an Associate Professor of Art History and Textiles for twelve years and subsequently owned and managed a commercial, modern art gallery.
Alda moved to Canada in 1993 and has since been able to rekindle her love of painting, particularly in watercolours, acrylics, and oil pastels. She is an active member of the Federation of Canadian Artists, a past member of Art 10 Gallery  of Nanaimo, B.C., the Nanaimo Art Group, the Nanaimo Arts Council, and the Ladysmith Waterfront Arts Council.  Her work reflects the beauty of the local area as well as her travels around the world. Conceptual art also interests her. She has participated in many Vancouver Island painting exhibitions and won awards. Her work is also seen at Island Savings Insurance Services in Cedar, B.C.
In more recent years Alda has also developed an interest in metalwork, especially silversmithing, and also lampworked glass bead making, for making jewelry.  Her designs are one of a kind, mixing mediums, and not mass produced.  Alda says that putting glass to a torch is like painting with molten paints, and the light within a gemstone is every changing.  Her workshops for these art pieces are also in her Nanaimo, B.C. studio.  Visiting is by appointment only.